Musicians, Choirs, and Dance Groups (aka Performers)
On-site live performances:
‍
Please see
schedule
for latest live in-person music.
Chubritza International Folk Band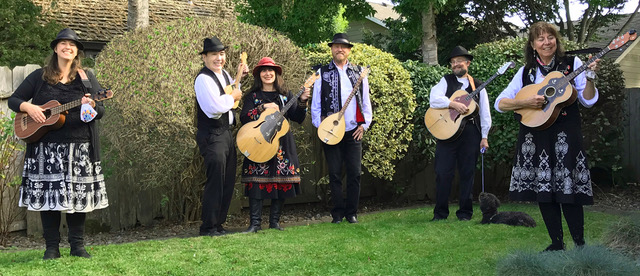 Chubritza International Folk Band
(
chubritza.com
) from Arcata, CA plays a wide variety of Balkan and international music. The band has a longstanding passion for tamburitza music and music of the former Yugoslav republics. Chubritzans Rick Kruse (bass), Craig Kurumada (prim), Linnea Mandell (bugarija), Derek Shaw (brac) will be collaborating with John Morovich, Michele Simon, and Bill Cope to provide tamburitza/kolo music for the 2022 Kolo Festival. Chubritza plays frequently for a wide variety of dances, festivals, and cultural events including the Tamburitza Extravaganza and the San Francisco Tamburitza Festival. The band has also recorded 2 CDs, (Spice of Life and Opsa!). John Filcich, Kolo Festival founder, now lives near Arcata, and the Chubritza musicians are very appreciative of his ongoing mentorship.
Website/Social Media:
Website
,
Facebook
Tips and Donations
Venmo to

Linnea-Mandell
Jaap Leegwater
Kafanameister and Specialist and Teacher of Bulgarian Folk Dances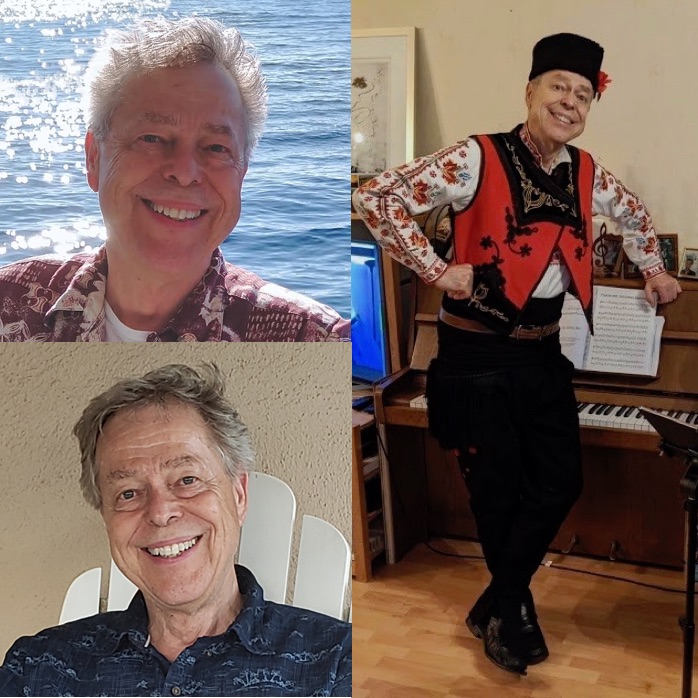 Jaap Leegwater
, is well-known as a specialist and teacher of Bulgarian folk dances.
He is very excited to be back the Kolo Festival this year and join us all again ..........this time in a new capacity of ..... "Kafana meister" . In this role encourages and leads the dancers in generic Bulgarian (Balkan) dances to the music and songs performed live in the Kafana by the visiting bands, musicians and singers.
Jaap's biography can be found on
his website
.
As a musician himself, Jaap always has been very fond of teaching and leading dances at special parties and events to live music. Jaap has worked in that capacity with many well-known accordionists like Traicho Sinapov, Emil Kolev, Petar Ralchev, Angel Nazlumov, and is recently often accompanied by Jan Wollring, Filip Filipov and Balkan Swing Band Sultan.
His approach is: no teaching, just dancing-along as the Bulgarians do at live music at their weddings and special festivals. Basically the bands call the shots and Jaap just translates their tunes to basic dances by leading the lines.
In Amsterdam, The Netherlands he does just that at his yearly big festival called the "BULGARIAN DANCE TAVERN. This has become very popular among both recreation folk dances and Bulgarians living in The Netherlands alike.
A nice impression of that can be found on:
Bulgarian Tavern in Amsterdam (YouTube)
00:00 The clip starts with a short concert of the Bulgarian choir Chubritsa, and at
07:30 it merges into a Kafana-type of "Pan-Bulgarian dance event".
Jaap welcomes all musicians, singers and dancers Ajde na Horoto to the Kolo Kafana's and looks forward meeting and dancing with you.
Michael Ginsburg
Band leader for material from Greek Macedonia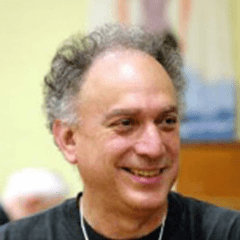 Michael Ginsburg
has been director and lead trumpet player of Zlatne Uste Balkan Brass Band since 1983. He accompanied ZU to brass festivals in Guča, Serbia, three times between 1987 and 1990, as well as in 2003 and 2005, where he and ZU were able to play and party with local brass bands and experience the music in its natural setting. Michael and Zlatne Uste worked with Ekrem Sajdić and Zlatni Prsti brass band in 2003, and in 2005 with Vranjski Biseri, both in Vranjska Banja, Serbia. Michael performed in the summer of 2010 with Zlatne Uste at the first competition of international bands at the Sabor Trubača in Guča, Serbia, representing the United States. ​For many years, Michael has been interested in Balkan music and dances, especially Macedonian and Serbian. He is an expert in the complicated rhythms of Balkan music and has made several research trips to Bulgaria and the former Yugoslavia, and studied in Macedonia with Pece Atanasovski, with whom he made research tours of the country. Michael has been on the teaching staff of the Macedonian Pearl seminar in Berovo, Macedonia. Michael lives in Yonkers, NY.
For Michael's dance music, email him at mginsburg@gmail.com
for electronic copy of music, for a CD with the music, paid directly to him.
Morgan Clark
Bulgarian, Macedonian music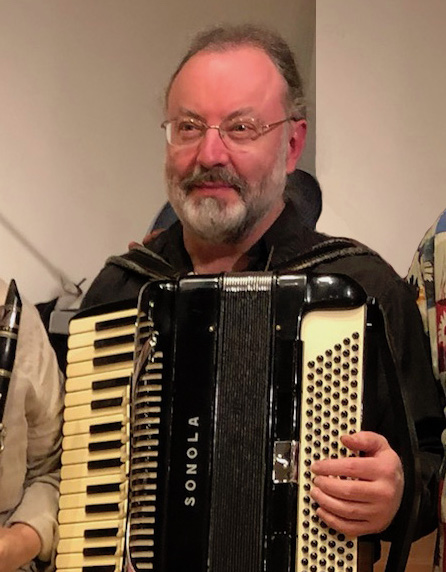 Morgan has been playing music since age 5, when his parents acquired a piano for the home and quickly realized that they would need to either dispose of that piano, or of the kids, or get them music lessons. Fortunately they chose the last option. Living in Germany for several years as a child instilled an interest in the accordion, and when the family returned to the States they brought one along which he learned to play a few years later, once a teacher could be found. He has been playing and performing international, primarily Balkan, folk music in various contexts for most of 40 years, and with the NYC-based Kavala Brass Band since before it was given that name. He has been the lead tenor horn player in Zlatne Uste Balkan Brass Band for most of its existence, traveling with the band to Serbia and Macedonia on 5 performance and study trips. Morgan lives in South Orange, NJ just outside NYC.
Spagâ Romanian Trio
Traditional Romanian Lautari Music