Musicians (aka Performers)
Main Hall
Kafana
Please see
schedule
for latest live in-person music.
Bulgarian Bitov Band (2023)
Bulgarian Bitova/Village Music

An exciting mash-up of members of Balkanton 340, Hector Bezanis (gajda) and Dena Bjornle (gadulka), together with Bill Cope (tambura), Dan Auvil (tapan), and Ivan Velev (kaval) will bring to you the unique traditional sounds of the folk instruments gaida, gadulka, kaval and tupan played by some the Bay Area's most exciting veterans/long-timers of Bulgarian music.
Tips/Donations
:
Venmo to

@Cope-a-cabana
Chubritza International Folk Band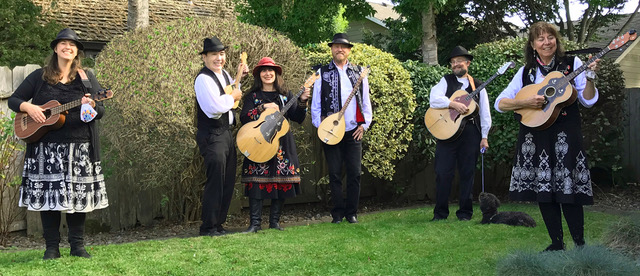 Chubritza International Folk Band
(
chubritza.com
) from Arcata, CA plays a wide variety of Balkan and international music. The band has a longstanding passion for tamburitza music and music of the former Yugoslav republics. Chubritzans Rick Kruse (bass), Craig Kurumada (prim), Linnea Mandell (bugarija), Derek Shaw (brac) will be collaborating with John Morovich, Michele Simon, and Bill Cope to provide tamburitza/kolo music for the 2022 Kolo Festival. Chubritza plays frequently for a wide variety of dances, festivals, and cultural events including the Tamburitza Extravaganza and the San Francisco Tamburitza Festival. The band has also recorded 2 CDs, (Spice of Life and Opsa!). John Filcich, Kolo Festival founder, now lives near Arcata, and the Chubritza musicians are very appreciative of his ongoing mentorship.
Website/Social Media:
Website
,
Facebook
Tips and Donations
Venmo to

Linnea-Mandell
Greg Jenkins and Friends
Greek/Rebetika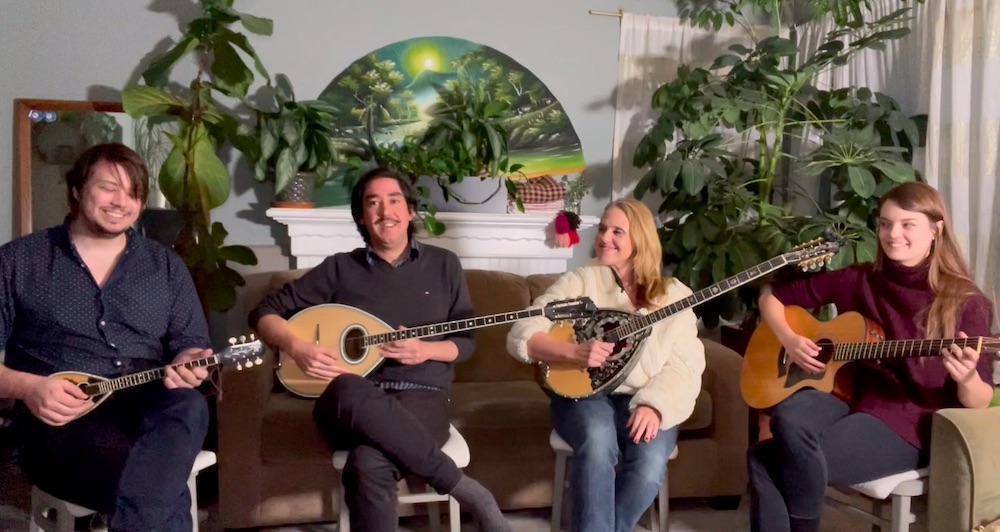 Jenette Sellin (guitar)
Evin Sellin (baglama)
Greg Jenkins (vocals, bouzouki)
and Friends
Setlist:

Greg Jenkins and Friends Greek/Rebetika band
is a shelter in place band from Occidental, CA organized by Gregory Masaki Jenkins of Bay Area's Rebetika band, Disciples of Markos. They play music inspired by 30s and 40s Greece, mostly Rebetika and Smyrneika.
‍
Donations and Tips
ALL tips/proceeds will be donated to a charity or charities benefitting people of the Balkans!
PayPal:
gregorymasaki

gmail.com (please choose "Friends/Family" when sending tips)
Venmo:

gregory-jenkins-3
Danubius
Hungarian dance music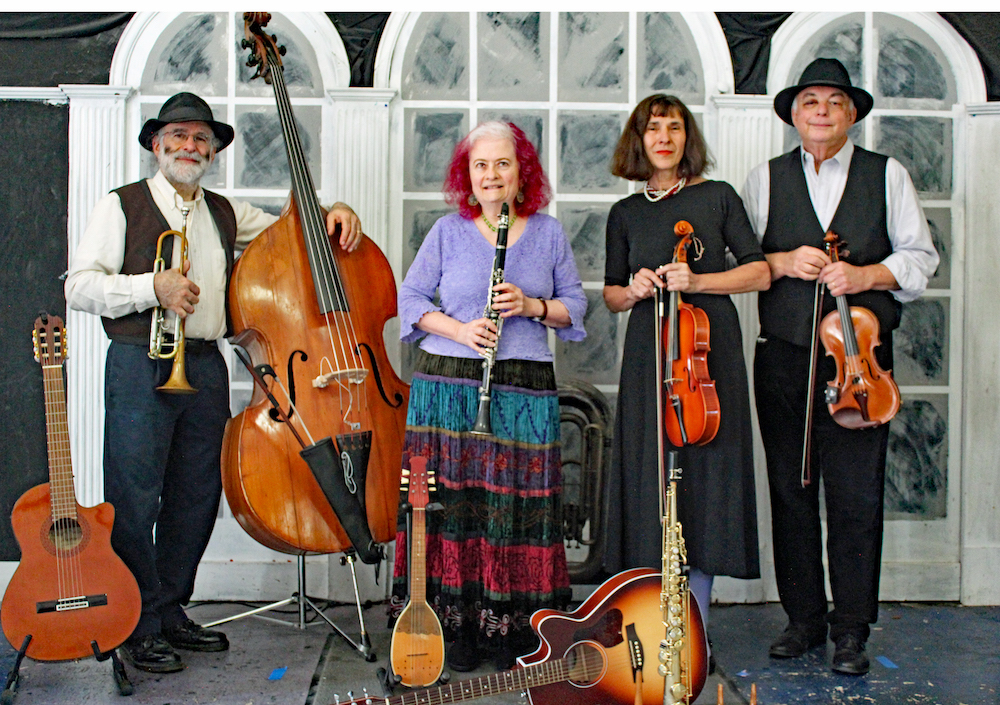 Barbara Deutsch (clarinet, fluier, soprano sax, vocals)
Jutka Mándoki (vocals, kontra, guitar)
Nathan Ladyzhensky (violin, guitar, prim)
Douglas Mandell (string bass)
Set list:

Danubius
(
danubiussf.com
) was started by David Skuse in the late 1990's. We are a San Francisco-based Eastern European band, specializing in traditional and Roma (Gypsy) music from Hungary, as well as from other countries in the vicinity of the Danube River. We perform for festivals and weddings, at restaurants and private parties, and have performed for numerous years at the SF Kolo Festival, most recently under the name ZsaZsaZsa. We play both Western and traditional musical instruments, giving us a unique sound.
Tips and Donations
Paypal at
Paypal.me/BarbDeutsch92
(please choose "Friends/Family" for the full donation to go to musicians, else a percentage is deducted)
Majorly Minor
Klezmer and eastern European tunes
Majorly Minor is Naomi Zamir and her band of friends playing soulful and vibrant klezmer melodies, as well as music from other Eastern European traditions. The band members are Naomi Zamir on accordion with a rotating cast of surprise friends on bass, cymbalom, violin, and others. Majorly Minor performs regularly in front of stores and restaurants in the Palo Alto area.
Orkestar Unbound
Balkan and International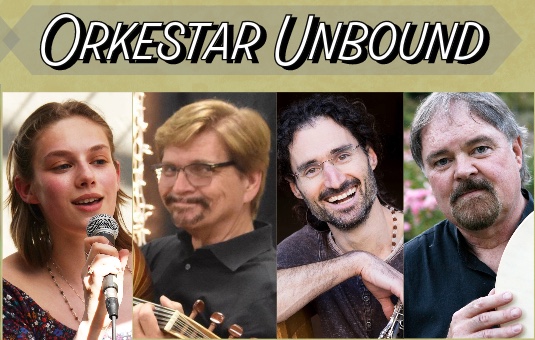 Orkestar Unbound features multi-instrumentalist bandleader Bill Cope, Asaf Ophir on woodwinds, vocalist Emily Saletan, Janie Cowan on bass, and Dan Auvil on drums. They will be playing music from the Balkans (and a bit beyond) from lyrical and gentle to rockin'!
Tips/Donations
:
Venmo to

@Cope-a-cabana
Sinovi
Tamburitza Orchestra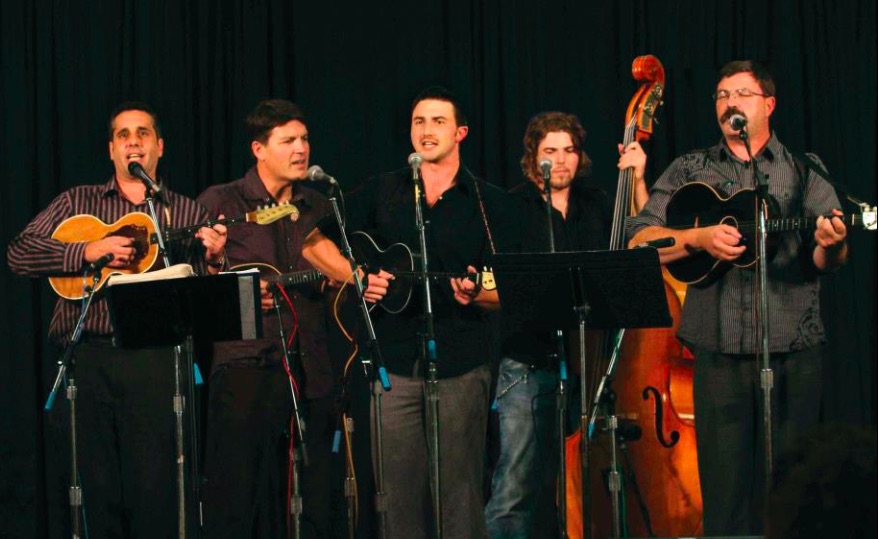 Sinovi Tamburitzanzs, formed in the fall of 1980, perform traditional tamburitza music of Croatia and beyond. The group was born out of the Seattle Jr. Tamburitzans for which it served as the music combo for the dance section of SJT. The group consists of two brothers, Tom and George Jovanovich (Brac and Bugarija) and their sons, Nick (brac) and Jake (bass). Lead singer is John Morovich (brac and accordion). They are often joined by Tim Jovanovich on Cello and Steven Mataya on brac.
The group has performed extensively in the Pacific Northwest and California and nationally regularly participating in Tamburitza Extravaganzas since 1981.
Sinovi specializes in the becar style of tamburitza music popular in the turn of the century Croatian American immigrant communities. The group has a large reportoire of traditional Kolo dances and popular Croatian songs.
Špagâ
Romanian Lautari and Transylvanian Music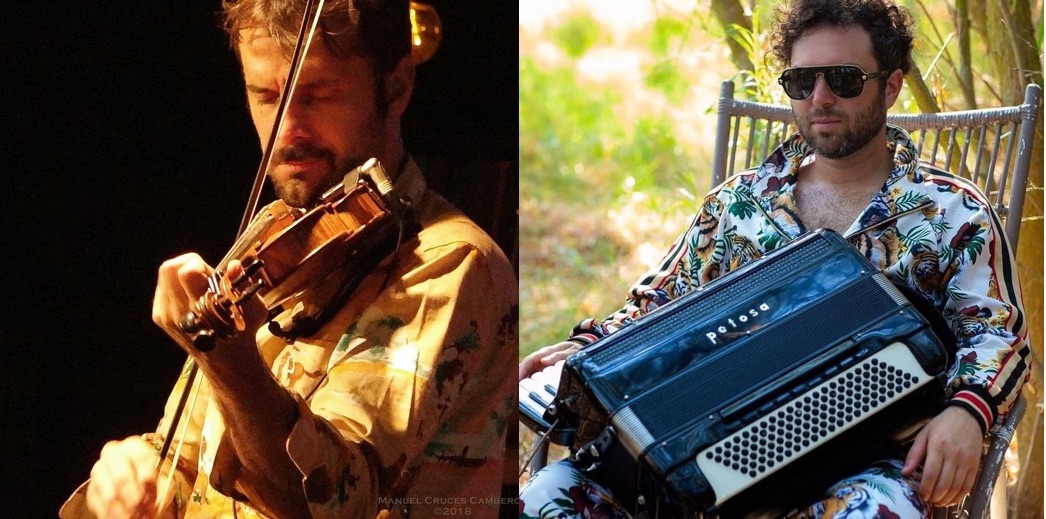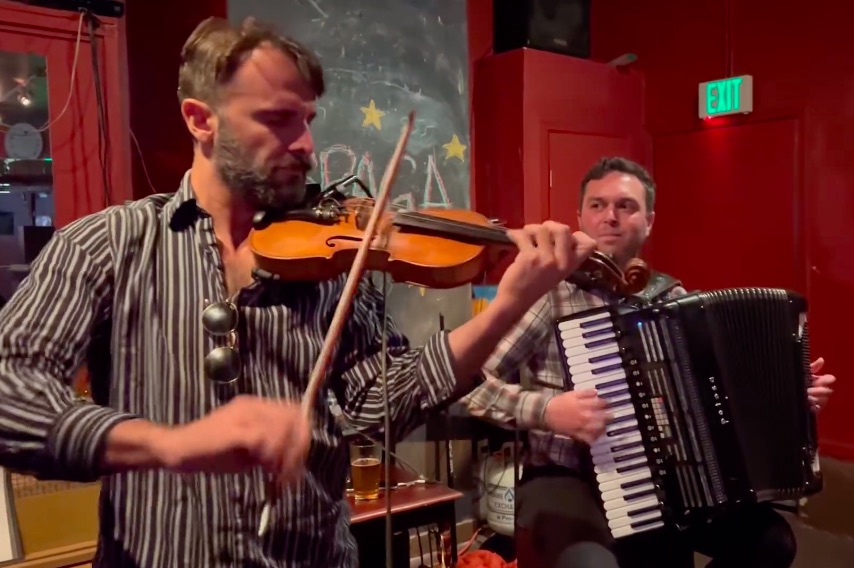 ŠPAGÂ! plays exciting and virtuosic gypsy music from Romania, Transylvania, and central Europe!
Andrew Cohen (accordion) and Marco Ghezzo (violin/brač) have put in their time to travel to the source of Lautari and Transylvanian folklore traditions. They have both spent years of their lives apprenticing with master musicians from Romania and Transylvanian Romania+Hungary, and practicing the art/traditions they have become intimately privy to and are bearers of. They are the rising stars in their genre on the West Coast and Bay Area in specific.
Svirači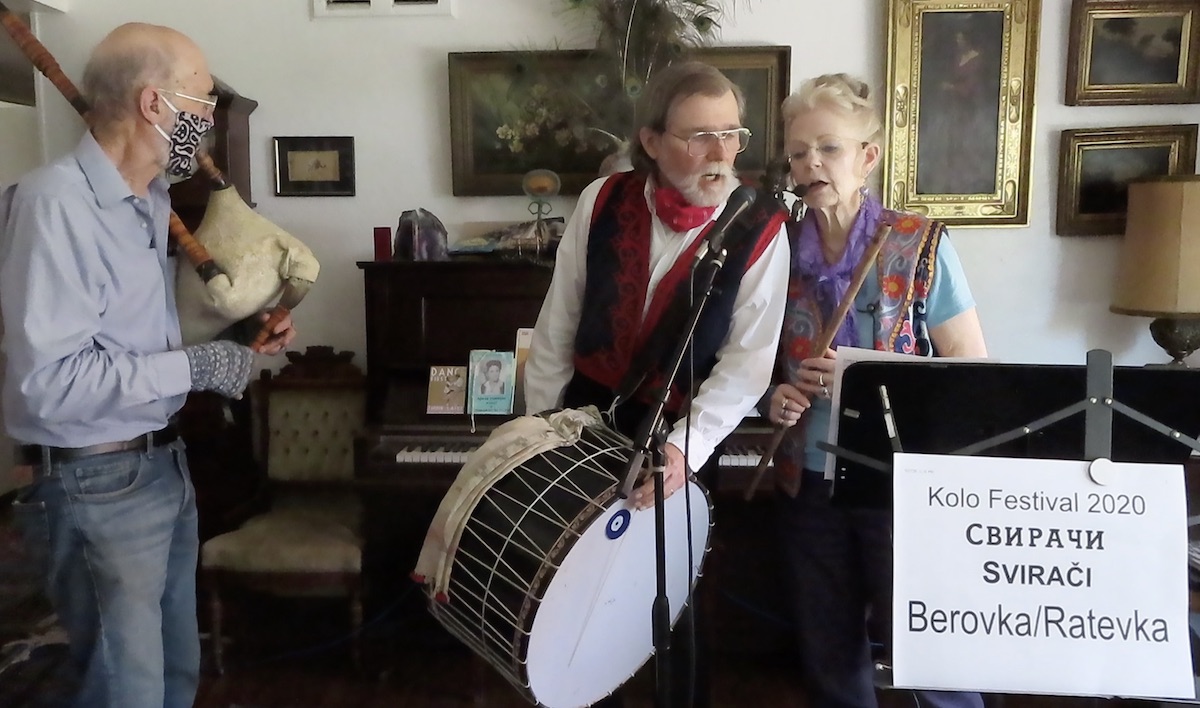 Melissa Miller (Bulgarian and Macedonian vocals, Bulgarian and Macedonian kaval, tambourine)
Lew Smith (tupan, dumbek, Bulgarian and Macedonian tambura)
Jim Little (Bulgarian and Macedonian gajdas, tupan, Swedish säckpipa, fiddle, Macedonian tambura)
Set list:
Pravoto (Gajdexhiju)
Berovka/Ratevka
Sandansko
Ne sedi dzhemo/Devojchje, devojche
Narodno oro
Svirači
(pronounced SVEE-rah-chee) is a three-member band that plays traditional village-style Macedonian and Bulgarian music for folk dancers, plus some Scandinavian folk dance tunes. In 1974, after the very first week-long Balkan Music Camp (at Sweet's Mill, above Fresno, CA) a number of us South-Bay/Peninsula residents who had attended decided we should get together again and play together. Members of the original early-days Svirači included Peter Ward (accordion, tambura), Mike Gage (clarinet, Bulgarian kaval), Gary Breitbard (violin, gudulka) as well as the current members Jim Little (string bass, gajda, and violin), Melissa Miller (flute, kaval), and Lewis Smith (percussion and tambura). We had an urban as well as a village repertoire back then, because we had the instrumentation; however, within a few years, as Pete, Mike, and Gary had changes in their personal lives, they left Svirači and we settled into exploring the village repertoire more deeply. Melissa began singing in public with the group at about that same time. For a time in the 1980s, Kip McAtee, now living in Hawaii, joined us on tambura. When Jim took up playing Swedish bagpipe, we added some Scandinavian music to our repertoire. We also have more urban style pieces using fiddle, voice, tambura, and percussion.
Website:
http://sviraci.persson-little.com

Tips/Donations
:
Venmo to

Lewis-Smith-70