Musicians, Choirs, and Dance Groups (aka Performers)
Please see
schedule
for latest live in-person music.
Aya Safiya & Tano Brock
Traditional Greek (Mainland and Islander)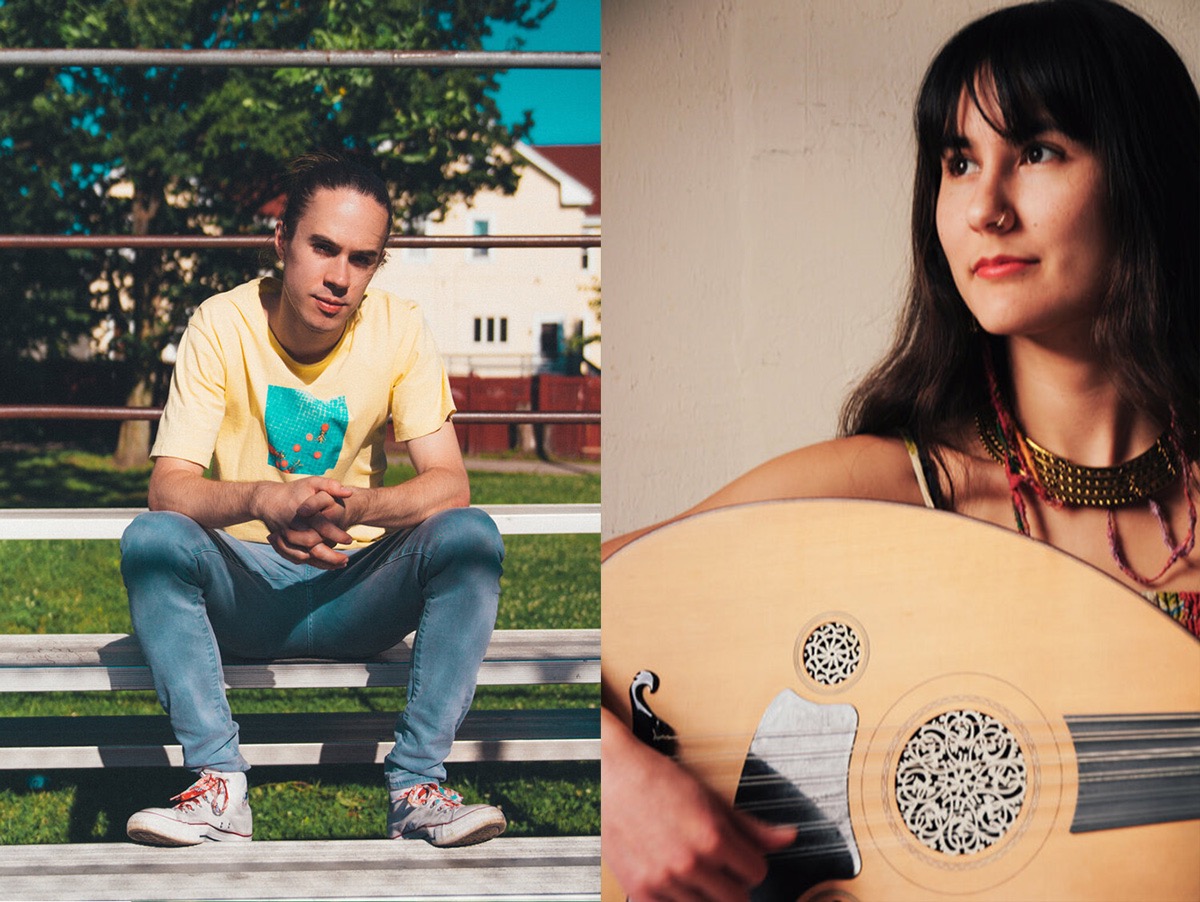 Kafana set list:
Ena karavi apo ti xio
Tripatos
Kalamatianos - Syrtos

Aya Safiya and Tano Brock
have been musical collaborators for over a decade. They met at a music camp in their teenage years, and began playing Greek and Balkan music together. In 2014, along with Cecilia Peña-Govea and Miguel León, they formed Taraf de Locos, a SF Bay Area group that created a unique blend of Balkan and Afro-Latin music styles. Following an album release and tour with Taraf de Locos, Aya and Tano traveled to Eastern Europe together to discover and study music. They have since been collaborating on a regular basis; continuing to play Greek and Balkan traditional styles, as well as contemporary original music. Since the onset of the COVID-19 pandemic, Aya and Tano have been frequently performing live-stream concerts from their home studio, both independently and as a part of larger concerts/festivals.
‍
Website/Social Media
:
Aya Safiya
ayasafiya.com
instagram.com/ayasafiya
twitter.com/AyaSafiya
facebook.com/theayasafiya
Tano Brock
tanobrock.com
instagram.com/tanobrock
twitter.com/TanoBrock
facebook.com/TanoBrock

‍
Donations/Tips
Venmo
:

Aya-Davidson
Paypal
to
ayacdavidson

gmail.com
(please choose "Friends/Family" for the full donation to go to musicians, else a percentage is deducted)
Da! Mozhem and the Nema Problema Chorale
Eastern European with a Hambo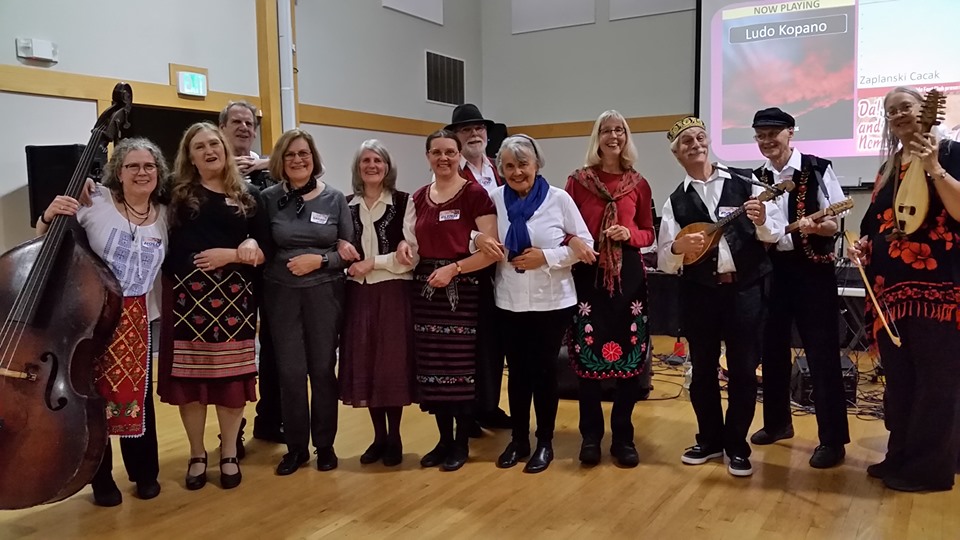 Alan Moore (accordion, kaval)
Barbara Saxton (vocals)
Ginny Snyder (arranger/director, clarinet, gaida, various strings, vocals)
Glynis Hawley (vocals)
Holly Thuman (bass, vocals)
John Burke (accordion, tambura, vocals)
Joyce Clyde (gadulka, vocals)
Lew Smith (percussion, vocals)
Nettie Weijsman (vocals )
Paul Litsky (prim, tambura, vocals)
Radmilla Zaric (vocals, primary language coach)
Rich Tucker (tambura, vocals)
Sonne Lemke (vocals)
Set list:
Bufchansko
Dramskoto
Pravo (Prez Gora)
Chobankat
Moja Diridika

Da! Mozhem
started when three friends met once and a while to play Eastern European music, more and more friends joined. Many had been in other well respected groups such as Sviraci, The People's International Sliver String Macedonian Band, Born to Drone, Sidesaddle, M'Earthtones, Peninsula Women's Chorus, Westwind and the Slavonian Traveling Band. The group has gained polish over the years, but not lost the friendship and humor that is the basis for playing music together. D!M plays at a variety of folkdance venues and festivals in California.
Website/Social Media:
Facebook
Tips and Donations
Paypal at
paypal.me/damozhem
(please choose "Friends/Family" for the full donation to go to musicians, else a percentage is deducted)
Cabin 19
Traditional Dance Music from Romania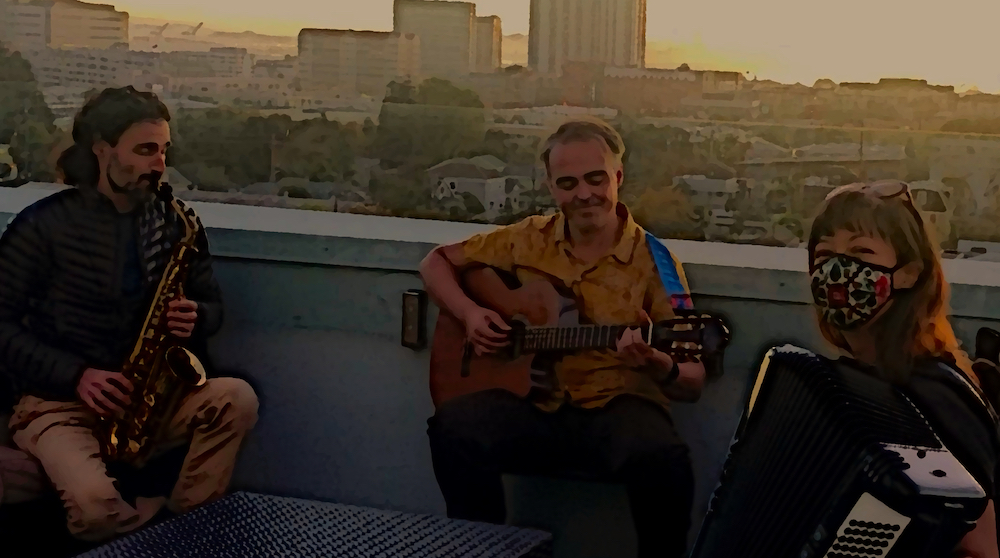 Asaf Ophir (clarinet, sax)
Balder ten Cate (cimbalom, guitar)
Zina Pozen (accordion)
Set List
Constantine, Constantine!

Cabin 19
consists of three Balkan Camp enthusiasts collaborating to bring you dance favorites from Eastern Europe. The band was born during the pandemic and the band members are based in the SF Bay Area, where they play in various other Balkan and Middle Eastern music ensembles as well.
‍
Website/Social Media:
Asaf Ophir
,
Balder ten Cate
Tips and Donations
PayPal.me/AsafOphir
Venmo:

Asaf-Ophir
Ikos
Greek/Rebetika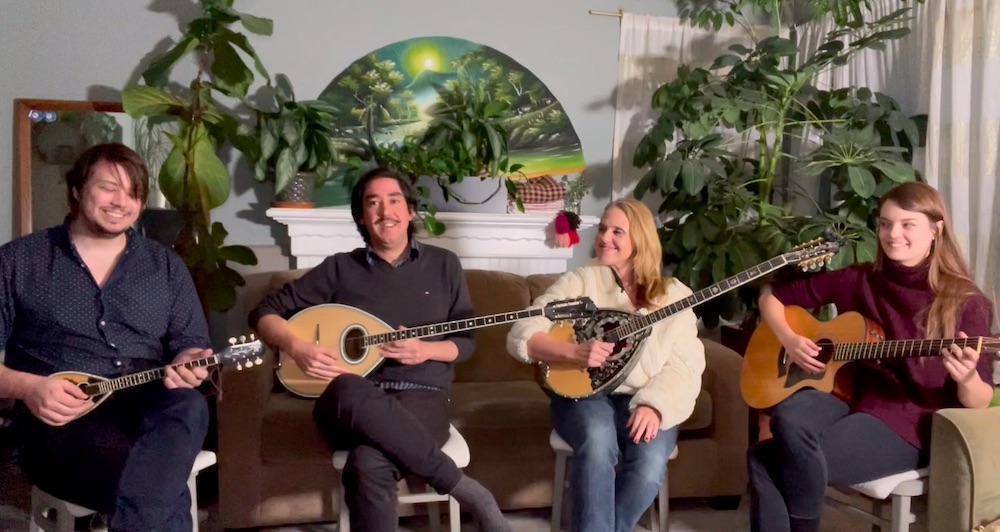 Chrisoula Georgatos (bouzouki)
Jenette Sellin (guitar)
Evin Sellin (baglama)
Greg Jenkins (vocals, bouzouki)
Setlist:
Papse na me tyrannas - hasapiko (Vamvakaris)
Thermastis - Zeibekiko (Batis)
Hasapiko me baglama (Zambetas)

Pegasus
is a shelter in place band from Occidental, CA organized by Gregory Masaki Jenkins of Bay Area's Rebetika band, Disciples of Markos. This is their debut performance as a band. They play music inspired by 30s and 40s Greece, mostly Rebetika and Smyrneika.
‍
Donations and Tips
ALL tips/proceeds will be donated to a charity or charities benefitting people of the Balkans!
PayPal:
gregorymasaki

gmail.com (please choose "Friends/Family" when sending tips)
Venmo:

gregory-jenkins-3