Teachers
Maria Bebelekova
Bulgarian Singing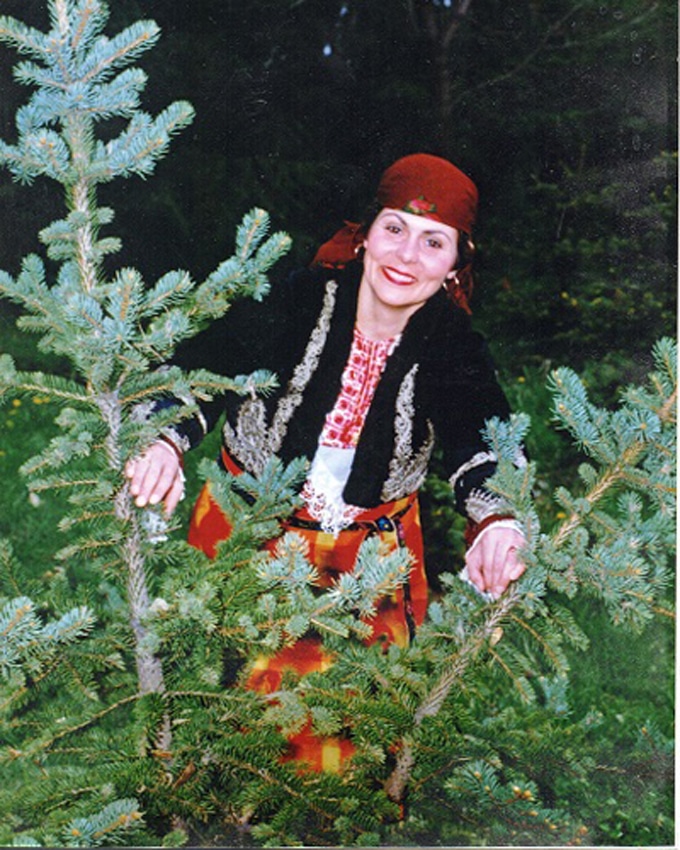 Maria Bebelekova from the Bulgarian Rhodope town of Shiroka Luka, learned singing from her mother and grandmother. She studied at the Shiroka Luka Folk Music School and the Plovdiv Conservatory, then returned to her hometown, where she taught at the music school for 15 years. She sang with the Bulgarian women's choir Angelite for three seasons, and has performed and recorded regularly with other ensembles. Maria teaches kindergarten and singing for adults and children at the Khan Asparuh Bulgarian School in Sunnyvale, CA, and gives private singing lessons in the San Jose, CA area.

Tips and Donations
Venmo
to

Maria-Bebelekova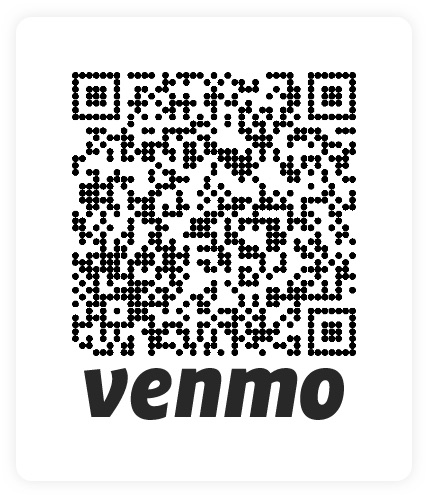 or
Zele
to 408-807-0741
Sonia Dion and Cristian Florescu
Romanian Dance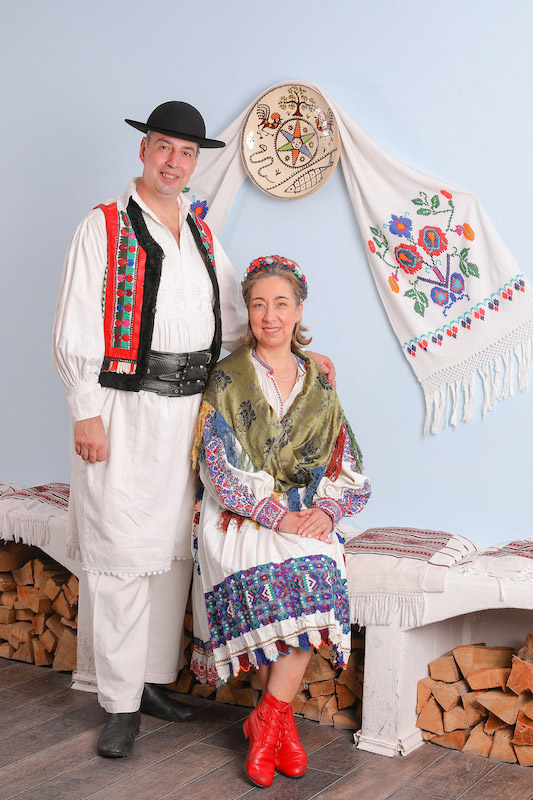 Sonia Dion and Cristian Florescu
(
soniacristian.net
) are known for their vibrant energy, warmth and exciting choice of dances and music.
Sonia Dion was born in Quebec and has been a professional dancer for over 20 years. She was lead dancer, choreographer and artistic director, among other roles for Les Sortileges dance company; Canada's oldest professional folk dance ensemble, with whom she developed several new productions. Sonia has toured worldwide and has been exposed to a wide range of dance techniques, including Romanian folk dance, Scottish Highland dancing, French-Canadian step dance and ballroom dance.
Cristian Florescu was born in Bucharest, Romania. He started dancing in 1982 with different Romanian folk ensembles and studied with various specialists, including Theodor Vasilescu. Cristian was principal dancer with the National Ensemble Cununa Carpatilor. In 1990-91, he received his certificate as a recognized solo dancer and choreographer in the field of folklore from the Romanian Ministry of Culture and the ACAFR. In 1993, he joined Les Sortilèges, a professional folk dance company based in Montreal Canada, where he has danced, taught and choreographed. During his time in Canada, Cristian has acquired multiple skills in various dance forms, including modern dance, ballroom, jazz and tap, as well as French-Canadian and Irish step dancing.
‍
It was at Les Sortilèges that the two met and formed a professional and personal partnership. They have taught at l'École Supérieure de Danse du Québec, and have been part of the Artists in the Schools program sponsored by the Quebec Ministry of Education. In recent years, Cristian and Sonia have developed a specific interest in working with recreational folk dance groups. They've been teaching in Brazil, Canada and the United States, Europe (Austria, Belgium, England, Germany, Italy, Norway, Switzerland and the Netherlands), Asia (Hong Kong, Japan, Singapore and Taiwan) to share their love of Romanian folk traditions. They have taught workshops in Canada and the United States and choreographed Romanian suites for performing groups, including the world-renowned BYU Folk Dance Ensemble in Utah.
Cristian and Sonia's prior appearance at California Kolo Festival was in 2018 and 2019. They are well-loved for their enthusiasm, style, humor and high energy. Some of their most popular dances include Made in Romania, Dana, Opinca, Opincuţa, Te Aven Baxtale, Încâlcita, Chef and Ina Ina. They present their dances clearly, with intelligence and joy. Sonia and Cristian's personality and heart are exceptional. it's always fun to be with them!
‍Dance Program
Ţigăneasca din Arad (open mixed circle)
Purtata de pe Mureş (line of couples)
Maneaua (free, single, or couple)
Joc de bâtă (mixed circle)
Învârtita lui Hossu (couples)
Hora şchioapă (mixed circle)
Hora lui Șerban (open mixed circle)
Hora lăutărească (mixed circle)
Hora de la Soroca (mixed circle)
(Note: you can purchase the Kolo Fest dance program materials for $34 USD)

Dance Teasers: youtu.be/w0o2UV327_0
‍
Tips and Donations: PayPal or Credit/Debit Card

Website: soniacristian.net
John Filich - Founder of Kolo Fest
Kolos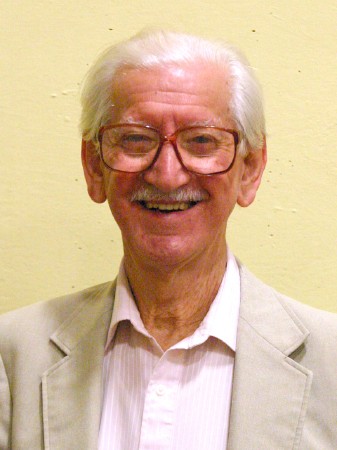 Ivan Petar "John" Filcich (Filčić
) was born in Fiume, Italy (nowadays called Rijeka, Croatia), in 1924 and is in Croatia. He immigrated to the United States when he was eight years old. His family settled in Gary, Indiana, the steel mill city with Croatian, Serbian, Polish, and other Slavic cultures and has had many years of experience with their music. In 1935, when his father gave him an old phonograph and a stack of Bulgarian, Croatian, Macedonian, and Serbian Records, his interest in international music was fostered. In 1946, the family moved again to California where Ivan saw foreign dancers in their native costumes. By 1947, Ivan was folk dancing every week in Oakland, California. With singleminded dedication, Ivan devoted himself to the study of the origin, history, dance, music, and language of his people. Then, in 1948, the International Institute of Oakland asked him to form a Yugoslavian dance group to perform at the Festival of Nations. He did even more, he formed two groups – Croatian and Serbian – and he was also dancing six nights a week! In 1949, he attended the College of the Pacific Folk Dance Camp in Stockton, California, which was later renamed the Stockton Folk Dance Camp. This led to his teaching of Yugoslavian "kolo" (circle) dances at the camp and his subsequent founding of the San Francisco Kolo Festival in 1952 as a benefit for a friend and well-known folk dancer named Vyts Beliajus." The festival's name was later changed to the California Kolo Festival."
Read John (Ivan) Filcich's
full biography here
.
Joe Graziosi
Greek Dance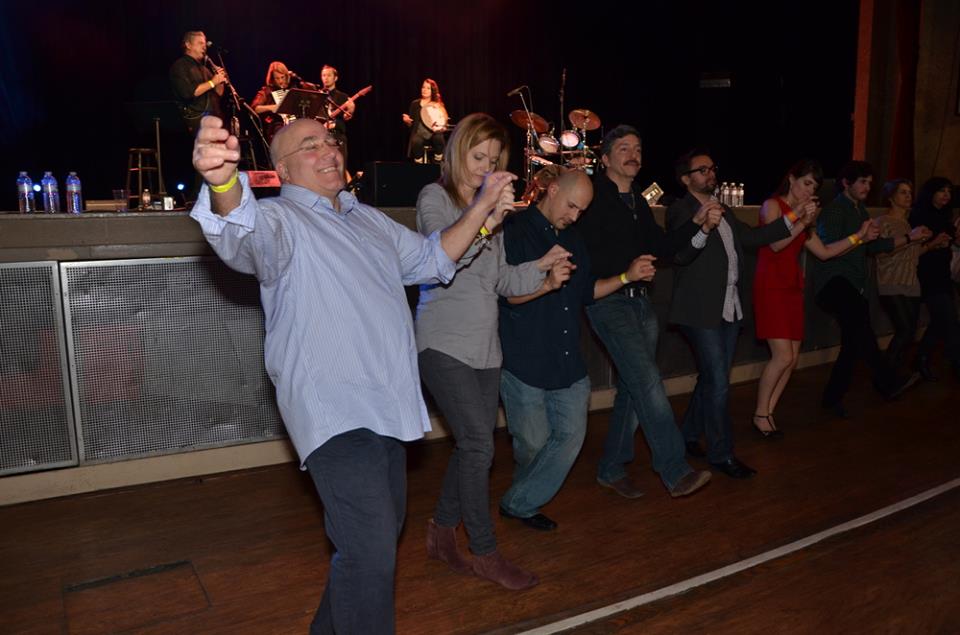 Joe Kaloyanides Graziosi, of Greek and Italian ancestry, grew up in the Boston area and graduated with a degree in History from Brandeis University in Waltham, MA. With a mania for Greek music and dance from an early age, Joe has done extensive research on regional dance in Greece and among Greek communities in the U.S. He has taught throughout the world for community groups and at major folk dance camps, including theBalkan Music and Dance Workshops since 1982. That same year Joe served as co-director of the Greek Music Tour, an NEA and Ethnic Folk Arts Center sponsored tour of well known Greek regional folk musicians and served as co-editor and co-author of an accompanying booklet. He was a co-founder of New York's Greek American Folklore Society (GAFS) along with its director, Paul Ginis, where he taught throughout the decade of the 80s. Joe has taught and introduced people to Greek dance in Taiwan, Canada, Brazil, Switzerland, Germany, the Netherlands and England and has taught regularly in Japan since 1990, and will be returning there again in 2021. Joe has also given talks on traditional Greek music and dance for the ethnomusicology departments at UCLA and UCSB. He has served as judge and advisor for the west coast Greek Orthodox (San Francisco Metropolis) Folk Dance Festival (FDF) since 1984, and as well has just celebrated 20 years as judge and advisor for the Atlanta Metropolis' Hellenic Dance Festival (HDF) . He is, along with Ahmet Luleci, co-founder of the annual World Music & Dance Camp, now in Iroquois Springs. He is also author of one chapter, "Turkish Music in the Greek American Experience", in the recently published book "Greek Music in America", U of Mississippi Press. Joe produces compilations of hard to find regional folk dance music.

Dance ProgramFriday (1 - 2 pm PST) - Kolo/Texas-camp Joint class
Apano Sti Triandafilla (Poliyiros, Halkidiki 7/16 322)
Ahi Vahi (Thasos Island, North Aegean 2/4)
Sfarlis (Bana, North Thrace 9/8 2223)
Zervodexio (Monastiri, North Thrace)
Friday (5 - 6 pm PST) - Kolo class - Hasapika dances
Hasapiko (Politiko / Tatavliano) medium to fast tempo
Hasapiko (Patrino) medium slow to slow tempo
Saturday (1 - 2 pm PST) - Kolo class - Pontos plus
Omal Aplon (pan-Pontic)
Uchayi / Kunihton (Garasaris)
Etere (Matsuka)
Diplon Omal (Gumush Maden)
Dhipat (pan-Pontic) time permitting
Saturday (5 - 6 pm PST) - Kolo class - Zeibeikika dances
Zeibekiko Kofto 9/4 qsqssqsqsss
Zeibeikiko 3+3 9/8 sssqqq (Aptaliko qqqsss)on...

Dance Teasers:
Tsamiko of Konitsa (Epiros)
,
Starsko Puscheno (Yerondikos Levendikos)
,
Stankena
Joe's Texa-Kolo materials
$20 = 61 SONGS + YT LINKS (JUST UNDER 35 CENTS A SONG!)
$25 = ALL OF ABOVE PLUS SONG TEXTS
$30 = ALL OF THE 2 ABOVE PLUS SURPRISE BONUS
Tips and Donations
Venmo to

Joseph-Graziosi-2 (Venmo is Joe's preferred payment method)
PayPal to
horoswithjoe

yahoo.com
(indicate it is a gift and not a business transaction to avoid fees)
Checks to Joe Graziosi, PO Box 512, W. Hyannisport, MA 02672 (Please
INDICATE TEXA-KOLO
and include your email address)
Michel Hardbarger
Dance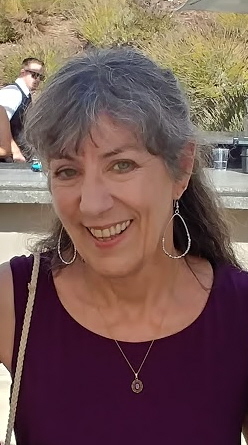 For more than 25 years
Michel Hardbarger
has taught music, creative movement, and dance on the San Francisco Peninsula to all ages, preschool to elders. She has been family dance leader for Changs Folk Dance Club since 2006.
Dance Program:
Michel will be leading a variety of fun and easy dances appropriate for all ages and gatherings, from solos to small groups.

Melanie Kareem
Ukulele Classes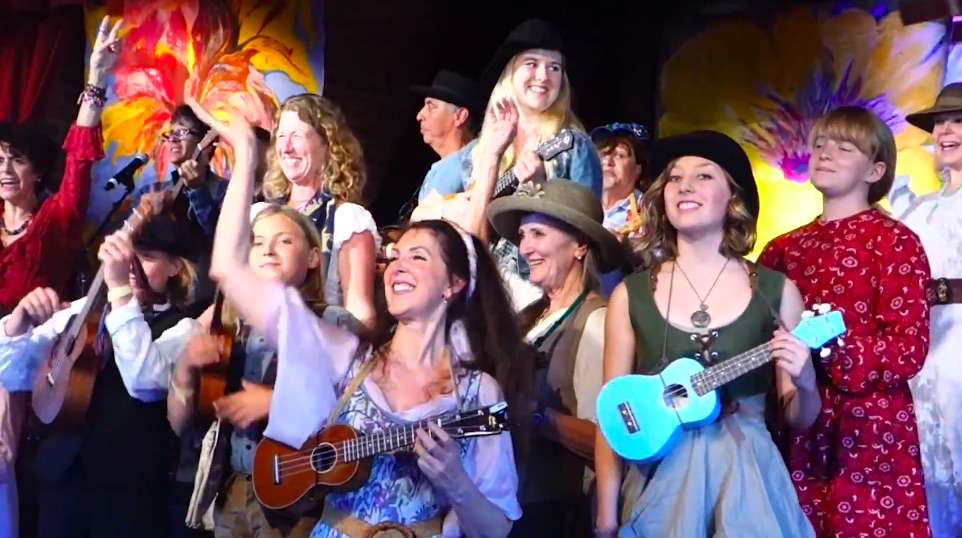 Melanie Kareem
Melanie Kareem Melanie Lawson Kareem Papish was raised with her siblings, Marcella Lawson and Michael Lawson in Pasadena, California in a folk dance family. Their dad, Chuck Lawson, was the "Johnny Appleseed" of community-minded fun, sharing music and dance with all. Chuck Lawson taught folk dancing every Friday night and regularly invited other families to the house for ukulele "sing-a-longs," a'la Pete Seeger, carrying the message of universal acceptance.
The Lawson siblings experienced the joy and inclusiveness of these multi-generational community activities as a birthright. Passing on the fun to others became a theme in their own lives. Melanie observed both of her parent's ingenious teaching methods and herself began teaching both folk dancing and belly dancing as a teenager. Over many years of successfully directing a belly dancing school in Topanga Canyon, Melanie honed her particular teaching style which is geared towards the would-be hobbiest experiencing joy and satisfaction quickly.
In 2015 when her dad fell ill, Melanie felt a strong calling to quickly learn ukulele from him so she could carry on his legacy of spreading ukulele joy, the "Johnny Appleseed" way. Melanie's grief did manifest into that mission. She began producing ukulele classes for friends and neighbors who had never before played an insturment. Over the next 11 months Melanie designed and rehearsed a multi-generational show with these brand new ukulele players, including her sister, Marcella. The "World Premier" show of Topanga Ukulele Revival was May 2016, to the delight of the Topanga community. This has created a continous ripple of new ukulele players and community shows. (Use the link below to watch show this show on YouTube.) Chuck Lawson's spirit to provide newcomers an easy pathway to become recreational dancers and musicians lives on in his children.
YouTube Teaser
:
youtu.be/STICkTbkIHo
Tips/Donations
:
Venmo
to

Melanie-Kareem
PayPal
to
melaniekareem

yahoo.com
John Morovich
Klapa / Croatian Singing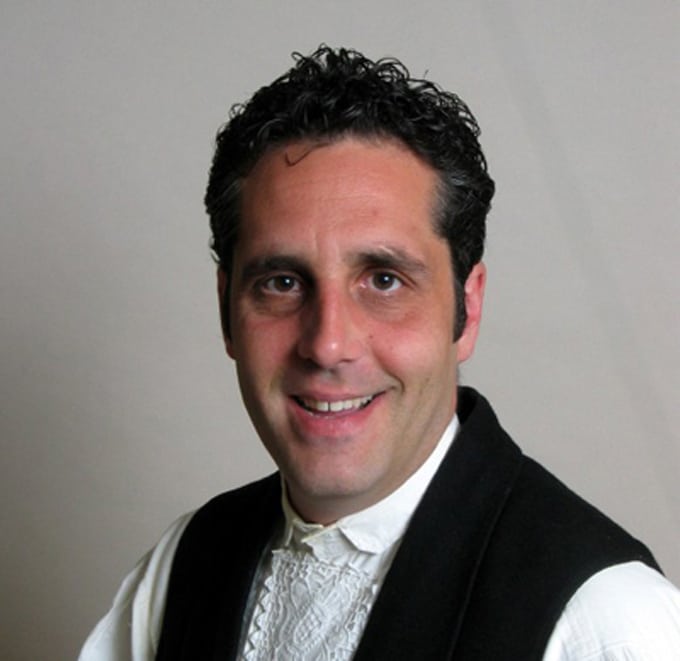 John Morovich
grew up in Seattle's sizable Croatian community. Since 1973, he has studied, taught, and performed traditional music and dance of Croatia and other parts of Southeastern Europe.In 2018 John was inducted into the Tamburitza Hall of Fame.He is a featured soloist with the Sinovi Tamburitza Orchestra, artistic director of the Seattle Junior Tamburitzans and Tamburaški Orkestar Kišobran. He is past conductor of the Jele Croatian Women's Choir and Klapa Ruzmarin, of Vancouver, B.C.For the last decade he has been a guest choreographer/music arranger for several Croatian folk ensembles in Western Canada and has performed with Vela Luka Croatian Dance Ensemble, Ruže Dalmatinke, Kultur Shock and Balkan Cabaret.
Youtube Teaser:
Evening of Sevdah
Michele Simon
Singing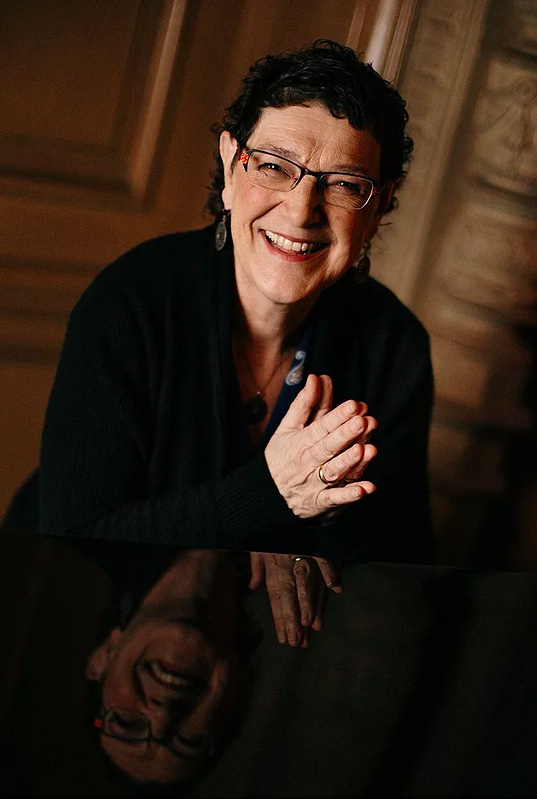 Michele Simon
(
michelesimonsimplyvoice.com
) has been involved with music all of her life, and with Balkan folk music for most of it, as a dancer, singer, drummer and teacher. She was raised surrounded by music of all kinds, including classical (especially Bach), standards (especially Margaret Whiting, Frank Sinatra, and Ella Fitzgerald), and American folk music. She sang before she talked, played cello and guitar, and most formatively, enjoyed trading harmonies with her mother's rich alto.She has been inspired by countless musicians, both in the U.S. and abroad, and has been lucky to study with, to name just a few, the late Nadezhda Hvoineva, from the Bulgarian Rhodope region; the late Esma Redžepova, Queen of Romany music; Serbian folk specialist Svetlana Spajić; Mary Sherhart of Seattle; Jane Sharp of Berkeley; and Bulgarian master singer Tatiana Sarbinska, with whom she also trained as a teacher. Over the last thirty years she has sung with Kitka Women's Vocal Ensemble; and has been steeped in complex odd-metered Balkan dance rhythms through singing and playing percussion in the folk dance bands Anoush, Brass Menažeri, Helladelics and Zabava! She has appeared on recordings and stages across America and in Bulgaria, as well as on Bulgarian and Serbian TV.Michele teaches private students, workshops, and camps, including the popular Balkan Vocal Technique class that has been a staple at Mendocino Balkan Camp for almost 20 years. As a singing teacher, Michele's specialty is integrating Balkan vocal styles with American voices. With humor, warmth and patience, she focuses on placement and sound fundamentals, using innovative exercises and imagery, as well as her model skull, Bartholomew. Michele lives in Oakland, CA.